Super Tot Warriors
3-5 Years Old
These 45 min classes are specially designed to introduce your little warrior to a structured Martial Arts Program in a gentle, fun but disciplined way.
This program focuses on learning & developing the basics of the Don Jitsu Ryu system, Discipline, listening Skills, attention, focus, balance and coordination in a fun and structured Don Jitsu Ryu Class. The program runs throughout the year,
New Students are welcome to start at any time.
Contact Us Now Call or text 'More info SUPERTOTS' to 561-307-2516
The current karate class schedule is Tuesday and Thursday 3.30 pm-4.15 pm
Note to Parents: Martial Arts with Purple Dragon International is one of the activities that you can do with your child and grow with them. A special bond is developed that will never be broken. The Family that kicks together, sticks together.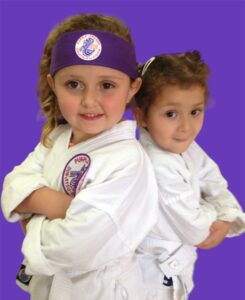 Schedule a Free Trail Class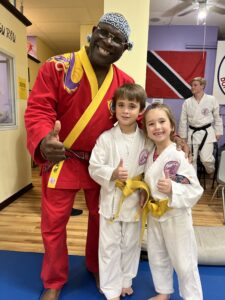 Little Warriors
5-10 Years Old
The Don Jitsu Ryu System has a unique teaching style and philosophy that helps kids excel in school and extracurricular activities by increasing confidence, discipline, listening skills, attention, balance and coordination. Students learn to set and achieve goals while moving up through the ranks of our system. Kids will learn how to break falls, develop self-defence skills, improve their fitness and gain confidence.
Beginners Welcomed: Tuesday & Thursday 4-5 pm and Sat 9 am or12 noon
Contact Us Now Call or text 'Little Warriors' to 561-307-2516 to set up your Introduction.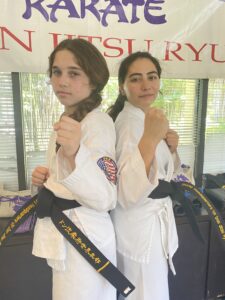 Warrior Teens
11 +Years Old
Equipping teens with the tools they need to tackle their journey into adulthood is what the Don Jitsu Ryu System teaches along with, dynamic self-defence techniques while gaining confidence to apply in all areas of life. To re-enforce the importance of discipline, Respect and Confidence. They learn what is responsibility and why it is so important to give positive peer pressure and encourage each other to excel.
We will challenge your teen mentally and physically, bringing more depth to their life. Making new friends and having the opportunity to take part in Purple Dragon's local and International events such as trips, overnight camping trips, talent nights, boot camps and more. CPR courses are offered to higher rank members. Join the Team USA competition and Demo Team.
Beginners Welcomed Schedule Mon/Wed 6 pm Tues/Thur 5 pm or 6.30 pm
Contact Us Now Call or text 'Warrior Teen' to 561-307-2516 to set up your Introduction.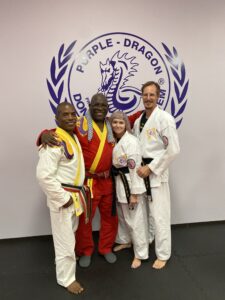 Adult Warriors
" Today, I begin NEW life…" TODAY! is the time to start to become the Warrior you were meant to be and knew you could always be. We know how special family is and we know how precious your time is. Our parent warriors and adult warriors are getting into the best shape of their lives while having a great time learning and practising practical Life Defense Skills off the Don Jitsu Ryu System. Our grandmaster encourages us to keep training with our family, which makes it even more precious. We have a unique and exciting schedule that will help you release stress, increase flexibility, lose weight and keep you in great shape.
You will learn the most comprehensive and effective Don Jitsu Self Defense methods as taught in our system. No matter what physical or mental challenges you may be facing at this moment, once you are willing to try we can help by modifying your workout program to help empower the body, calm the mind and enlighten the spirit. We believe in you.
Beginners Welcomed: Schedule Mon/Wed 6 pm Tues/Thur 6.30 pm
Call 561-401-9903 to schedule or Call or text 'Adult Warrior' to 561-307-2516